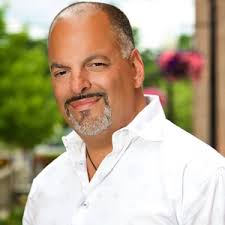 Here's a fun interview with the one and only, Terry Bean from Detroit, Michigan.
[Watch the video version of this interview on Michael's YouTube channel.  Subscribe to be notified of new interviews!]
Terry is a Co-founder of TEDx-Detroit and the Executive Director of Motor City Connect, Detroit's premiere live networking organization.
Enjoy this wide ranging interview as Michael Angelo Caruso and Terry cover a bunch of interesting topics, including:
 1:00
  A behind-the-scene look at TEDx-Detroit (ongoing convo throughout)
 2:15
  Event planning strategies
 6:30
  Detroit as "comeback city"
16:00
Why you can't say "I don't know" anymore
24:00
Terry's new online coaching program
Watch to get many great tips from Terry on how to make the most of change.
Plus, some EPIC name dropping, including Dan Gilbert, Apple, Rock Financial, U2, Cleveland Cavaliers, Bono, Charlie Wollborg, Uber, Lawrence Tech, Dale Earnhardt Jr Jr., Google and Cher!?
Terry is a public speaker, a networking coach and author of the book, "Be Connected," a primer on how to develop quality relationships.  He offers online coaching so you can level up your networking skills and amp up your career.  Learn more about Terry at TryBean.com.
Subscribe to this YouTube channel to be notified of Michael's newest interviews.
Michael Angelo Caruso teaches presentation skills that will help you command the room, get noticed and advance your career. If you're a leader or salesperson, Michael will help you become a better presenter for the rest of your life.
The most important business skill for leaders and salespeople is the ability to effectively communicate with groups of people.  Look into leadership and sales training so you can keep teams interested, motivated and successful.
Use Michael to pump up your next conference or industry event.  He's one of the top keynote speakers in America.  Choose from his menu of popular keynote topics.
And his reputation is expanding, as he's now spoken in Africa, Europe, the Middle East, Asia and South America. 
Watch (and subscribe to) Michael's channel on YouTube to learn how he can help your sales team.  Just click that silver bell on MAC's YT channel page.