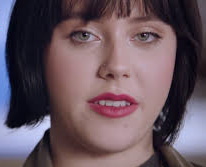 Mental Illness advocate and Netflix celebrity, Riley Juntti, joins Michael Angelo Caruso for a fascinating discussion on mental health.
The topic focuses on suicide prevention. Riley, a junior at Oakland University, helped create 13 Reasons Why NOT, centered on Netflix's show 13 Reason's Why, in which the lead character leaves behind a recording blaming 13 people for her suicide.
Riley's 13 Reasons Why NOT program arranged for thirteen students from Michigan's Oxford High School to make public address announcements to 1,800 fellow students by sharing an emotionally vulnerable place they had been through and thanking someone who had helped them out of it.
Feedback created a national sensation with over 100 major news organizations picking up the story, including Nightline, the Washington Post, and USA Today. National Public Radio (NPR) featured 13 Reasons Why NOT as one of the Best Youth News Stories of 2017 and then, Netflix got involved.
She is now the face of Netflix's social campaign Tell Them which uses inspirational stories to overcome struggles such as mental illness, abuse and sexual harassment.  This social media campaign uses stories of recovery to inspire youth to come forward with the problems they may be facing.  The Tell Them videos can be viewed across all of Netflix's platforms for the second season of 13 Reasons Why.
Riley is currently earning her bachelors in Clinical Psychology at Oakland University, an international public speaker and a certified Crisis Intervention Counselor who teaches on using vulnerability to help those at risk for suicide.  She uses both personal testimony from her battle with mental illness and hands-on work with youth to break silence and stigma surrounding mental health. Her speeches are critically acclaimed for bringing hope to a tough topic and giving communities tangible stories of recovery after mental illness.
Her long-term goal is to educate students, parents, and schools on building a culture of support to decrease mental health stigma.  
More about Riley Juntti at her website and on Netflix.
--
Watch the video version of this interview and subscribe to Michael's YouTube channel.  
More on Michael Angelo Caruso at his website and his Present Like a Pro group on Facebook. Michael teaches presentation skills that will help you command the room, get noticed and advance your career. If you're a leader or salesperson, Michael will help you become a better presenter for the rest of your life.
The most important business skill you can have is the ability to effectively communicate with groups of people.  Everything is a presentation. 
Watch the video version of this interview on Michael's YouTube channel.